Electronics Repair
Northline NC's Electronic Test Systems
Northline NC leads the industry with exceptional capability for the test and fault finding of even the most challenging circuits. Our state-of-the-art systems allow us the ability to select and apply different test techniques on a single circuit, guaranteeing comprehensive fault coverage.
Industrial Electronic Repairs is the core of Northline NC's business. Our industry leading technicians have an average of more than 10 years' experience. With an extensive inventory of OEM electronic components, our repairs are turned around quickly. The Northline NC team of engineers are continually developing new dynamic, fully functional, and component-level systems to ensure we always provide quality repairs. Our number one goal is to supply our customers with innovative solutions, cost savings, exceptional quality, along with excellent customer service that cannot be beaten.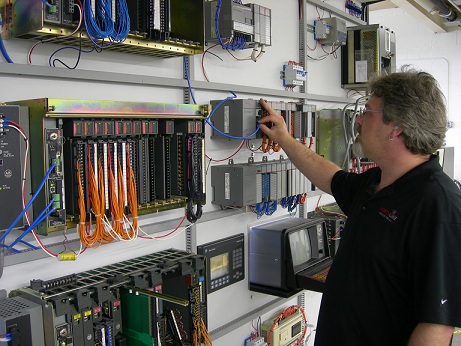 Our Test Process
The technician curves all active components
IC chips are tested and replaced if necessary
Resistors, capacitors, crystals, diodes, relays, fuses and other surface mount components are tested for manufactured specifications
Anything out of compliance will be replaced
The board will be cleaned and tested before shipping back to the customer
Our Capabilities Include:
Analog and digital circuit boards
Amplifiers/drives/inverters/soft starts
Vector drives
Servo/spindle drives
CNC machine tool controls
Robotic systems
PLC/CPU/I/O
Power supplies
Safety/light curtain
Timers/counters/temperature controllers
Encoders/ resolvers
Chart recorders
HMI / monitors / touchscreens / LCD displays
SCR assemblies
Welders
Your Employees & Your Business Rely on Safe Equipment.
Light Curtains protect workers from injury and also protect machines from damage with a non-contact screen of light and photo-electric diodes. Northline has the capabilities to repair and test your safety devices including industrial light curtains and opto-electric safety equipment. Safety devices are repaired with OEM components and dynamically tested at our facility. Northline also inventories units in-house that are available for direct purchase. Do not leave your machine safety in question and contact your Northline sales representative for your Light Curtain Repairs.
We Service Light Curtains On Most Manufacturers Including:
Honeywell
SICK Optic - FGS - MGS
STI / OMROM - MS4600 - MS4300 - MS4600
Featured Tech Bulletins